Timewalking
In World of Warcraft Patch 6.2, we're introducing a new series of seven different weekend events, and two of the seven weekends will make Timewalking Dungeons available to characters at level 71 and higher for Outland dungeons or 81 and higher for Northrend dungeons. When you Timewalk these dungeons, you'll find that your character's power and gear has been scaled down to a fraction of what they normally are, and you may have never ventured into some (or all) of them, so it's a good idea to prepare yourself now.
Outland: Black Morass
Deep within the Caverns of Time, the brooding dragon Nozdormu has awakened. Since the world was young, the bronze dragonflight has safeguarded the winding labyrinth, monitoring the shifting timeways to ensure that the delicate balance of time is upheld.
But now the ancient Dragon Aspect has been roused by an elusive threat: dark, sinister agents have infiltrated the timeways, embarking on missions to alter the course of the past, present and future. As a result, the bronze dragonflight has begun enlisting heroes to prevent the sabotage of key historical events. The balance of time is in jeopardy, and if the past is not saved...there will be no future.
Dungeon Map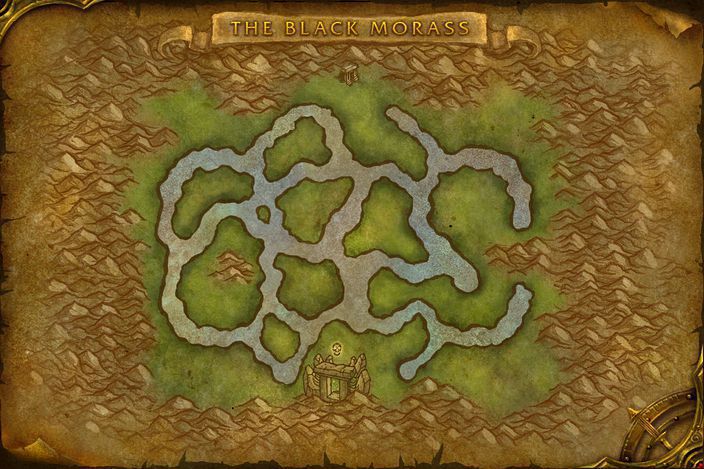 Click to enlarge
Bosses

Chrono Lord Deja

The Infinite Dragonflight tempted many drakonid with promises of power, but most found only servitude and despair. One of the few exceptions is Chrono Lord Deja, who gained influence within the flight through his raw power and cunning.

Temporus

Although relatively young, Temporus was instrumental in identifying many of the Infinite Dragonflight's prime targets. As a reward, he was given the responsibility of destroying anyone who might attempt to interfere with the dragonflight's plans.

Aeonus

Powerful and wild, Aeonus was tasked by the Master of the Infinite Dragonflight to personally oversee the disruption of key moments in the true timeway.
Tips
Before you approach Medivh, you should first take out any enemies you see around the area.
When you get close to him, Medivh will start an event that comes in waves. Three of those waves are boss fights.
To close each opening rift, kill the Rift Keeper who is keeping it open.
Kill the enemies who come through as quickly as possible to prevent them overwhelming Medivh.
If you're efficient, you'll be able to get out of combat between rifts (and recover). 
Achievements and Reputation
If you've not gotten them before, completing this dungeon will award Opening of the Dark Portal and Heroic: Opening of the Dark Portal , the latter of which is required for Outland Dungeon Hero.
Killing enemies in this dungeon increases your standing with the Keepers of Time. For a full breakdown of what you can do with Keepers of Time reputation, check out Wowhead and Wowpedia.
Get in there and Fight!
Timewalking dungeons are coming to WoW with Patch 6.2: Fury of Hellfire. Keep an eye out for the weekend-only quest "A Burning Path Through Time", which rewards a Seal of Inevitable Fate when you complete five Burning Crusade Timewalking dungeons.