It's a big month! A little gathering called BlizzCon will pack November to the brim with World of Warcraft revelations, announcements, videos to watch, new goodies to acquire, and the pinnacle of WoW esports. You're not going to want to miss November!
In-Game Events
Day of the Dead [November 1-3]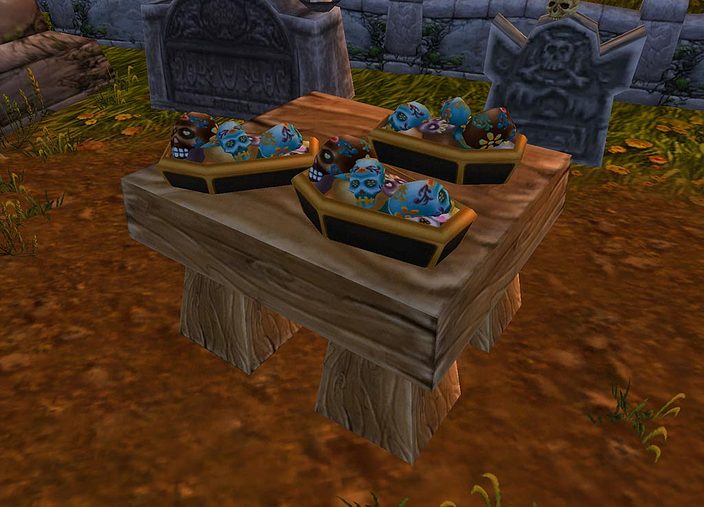 Can you feel it? The spirit world draws close during the Day of the Dead. This is why we decorate the graves of our dearly departed with flowers and candles and offerings: to welcome them back, even if only for a time.
Purchase some Orange Marigolds from Chapman and use them to see the otherwise invisible spirits waiting in graveyards. Bake (or buy) some Bread of the Dead and give it to a Cheerful Spirit to kick off the Grateful Dead quest and unlock a new pet, the Macabre Marrionette – which you can only get during this event.
Darkmoon Faire Returns [November 1-7]
The wondrous and mystical Darkmoon Faire returns to Azeroth on November 1, and if you haven't completed all of Silas Darkmoon's new Darkmoon Races, now's the time! Test your speed and agility on a variety of racing mounts as you dodge electrifying obstacles and zip all over Darkmoon Island for rewards and achievements. You may also want to take a few moments to be a kid again by going for a ride on the new Darkmoon Seesaw.
The faire continues to be one of the best ways to acquire heirloom gear, and don't forget all of the toys, mounts, and pets that can only be gotten here. Get in that cannon!
WoW's 11th Anniversary [November 23]
The World of Warcraft Anniversary celebrates Azeroth's heroes dedication to protecting and preserving their world. Whether you are an honorable Tauren, a brawny Orc, a crafty Gnome, or a resourceful Human, we appreciate your continued support! We hope to see you around for many years to come!
Pilgrim's Bounty [November 23-30]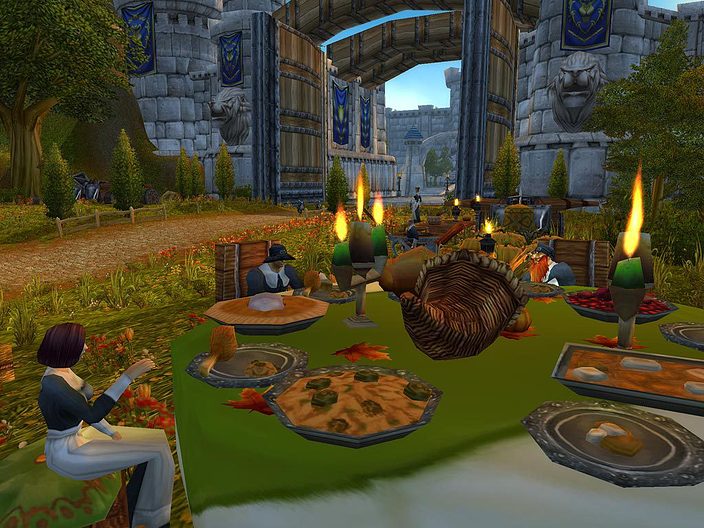 Even during hard times, the Pilgrim's Bounty celebration emerges across the lands of Azeroth, bringing with it the opportunity to reflect and give thanks for the nourishment the land has provided. This season is the perfect occasion to brush up on your cooking skills while sharing in a veritable cornucopia of delicious offerings found on the communal dining tables located outside capital cities. There's also no better time to go on a wild turkey hunt, or, should wild turkeys prove too elusive, transform friend and foe into tasty turkey targets.
It's a time for reflecting on your journeys and good fortune and sharing plentiful food and stories with friends. You can partake in wonderful Pilgrim's Bounty feasts near major towns by sitting at a Bountiful Table and enjoying the food!
World of Warcraft Esports
Road to BlizzCon: WoW Arena World Championship
The time has come. This is it. BlizzCon is where you'll get to watch the Global Finals of the World of Warcraft 3v3 Arena World Championship. One team will stand victorious and take home the lion's share of a $250,000 prize pool and the title of BlizzCon 2015 Arena champions.
The Opening Week action begins at 1:30 p.m. PDT on Friday, October 30, and continues at that same time on Saturday, October 31. The final rounds at BlizzCon get underway as Noon PST on Friday, November 6, and continue at 3:00 p.m. PST on Saturday, November 7. Be sure to tune in to our free live stream on the official BlizzCon website.
Bonus  Events
November 4-9: Draenor Dungeon Bonus Event
November 11-16: Pet Battle Bonus Event
November 18-23: Burning Crusade Bonus Event
November 25-30: Apexis Bonus Event
Last Month In WoW
Among the many interesting happenings in October, we couldn't help but take special notice of the annual Running of the Gnomes. Event organizer Dravvie tells us that over 2400 people gathered on the Scarlet Crusade (NA) realm, created new Gnome characters, and then ran from Gnomeregan to Booty Bay. From there, they all went on to Orgrimmar. Check out these pictures of the event:
Along the way, over $3,400 was raised for the Cleveland Clinic's Cancer Program. That's impressive! Our thanks go out to everyone who sent in a heads up about it.
What's happening in November that you'd like us to highlight? Let us know in the comments below.