2015 is closing out with a bang! December is one of our favorite months for many reasons, but we especially enjoy the fireworks displays over Azeroth's great cities as we bid farewell to another year of fun and adventure. Read on for a look at all the holiday cheer coming to you in World of Warcraft.
In-Game Events
Darkmoon Faire Returns [December 6-13]The wondrous and mystical Darkmoon Faire returns to Azeroth on December 6, and if you haven't completed all of Silas Darkmoon's new Darkmoon Races, now's the time! Test your speed and agility on a variety of racing mounts as you dodge electrifying obstacles and zip all over Darkmoon Island for rewards and achievements. You may also want to take a few moments to feel like a kid again by going for a ride on the new Darkmoon Seesaw.
The Faire continues to be one of the best ways to acquire heirloom gear, and don't forget all of the toys, mounts, and pets that can only be earned here. Whack those gnolls!
Feast of Winter Veil [December 16 – January 2]
The Feast of Winter Veil is a heartwarming gathering that also happens to be one of the tastiest events of the year! While enjoying a freshly nutmegged cup of nog, and crunching on a crumbly cookie or two, be sure to visit Greatfather Winter in Ironforge if you're Alliance, or Great-father Winter in Orgrimmar if you're Horde. While there, you'll find a few treats, and surely a few tasks to take on as well.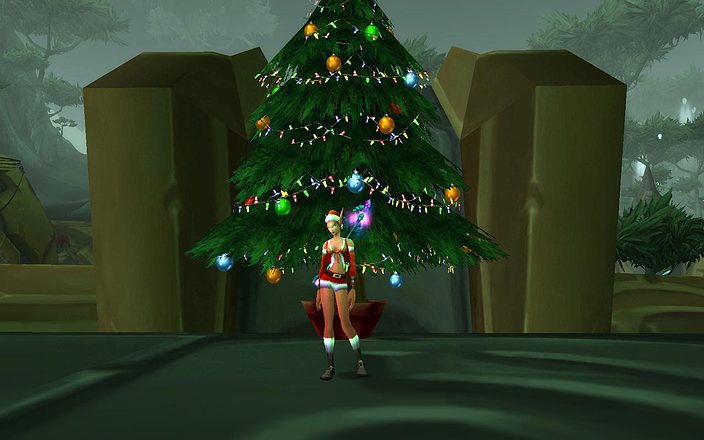 Winter Veil is the only time of the year you can acquire these pets: Clockwork Rocket Bot, Winter Reindeer, Tiny Snowman, Winter's Little Helpers, Lump of Coal.
Crafters of all stripes, rejoice! You can enhance your knowledge with these seasonal recipes: Elixir of Frost Power, Edge of Winter, Hot Apple Cider, Gingerbread Cookie, Egg Nog,Winter's Might, Snowmaster 9000, Gloves of the Greatfather, Winter Boots, Green Winter Clothes, Red Winter Clothes, Green Holiday Shirt. 
New Year [December 31]
Happy New Year! Join the celebrations starting at 6:00 a.m. realm time on December 31 and check out the fireworks in the skies above the cities—the show takes place every hour on the hour. Sample the exotic brews and libations carted in from around the world of Azeroth and /dance your way into the new year. For those looking to avoid trouble—or get into it—you may want to steer clear of—or head toward—Booty Bay, as the guards there appear to be spending more time enjoying themselves than enforcing town rules (at least into the morning hours).
Bonus  Events
December 2 – 7: Arena Skirmish Bonus Event
December 9 – 14: Outland Timewalking
December 16 – 21: Battleground Bonus Event
December 23 – 28: Draenor Dungeons
December 30 – January 4: Pet Battle Bonus Event
Last Month In WoW
A lovely little gathering we call BlizzCon took place in November. Were you able to attend? Check out some of our favorite cosplay, our Legion class previews, the Legion cinematic trailer, the WoW Arena World Championship, the Warcraft trailer, a few pictures from the event, and this community recap video:
Can you think of anything else happening in December that you'd like us to highlight? Let us know in the comments below.